Patented multi-layer film guarantees 100% sterility!
Contamination caused by contact – the patented STERTOUCH®PRO* multi-layer film enables you to operate touch interfaces in an operating room in a sterile manner for the first time.
Gone are the days when you had to rely on the support of an assistant or you tried to operate a keyboard in an awkward manner using traditional bags or even sought to recognize something on a monitor that was wrapped in bags! Crystal-clear vision and full operating comfort with no safety restrictions are now available.
---
100% sterile – guaranteed according to DIN EN ISO 11137-2 and ISO/TS 13004
The control technology works ideally without any restrictions on clear vision
No additional human resources necessary to operate units in a sterile way
Possible to switch between the patient and the technology without any problems
No compromises in patient safety
Maximum safety with minimal effort (attaching the film takes no more than 10 seconds)
The film can be removed quickly without leaving any adhesive residue
Safe storage through additional validated sterile packaging
---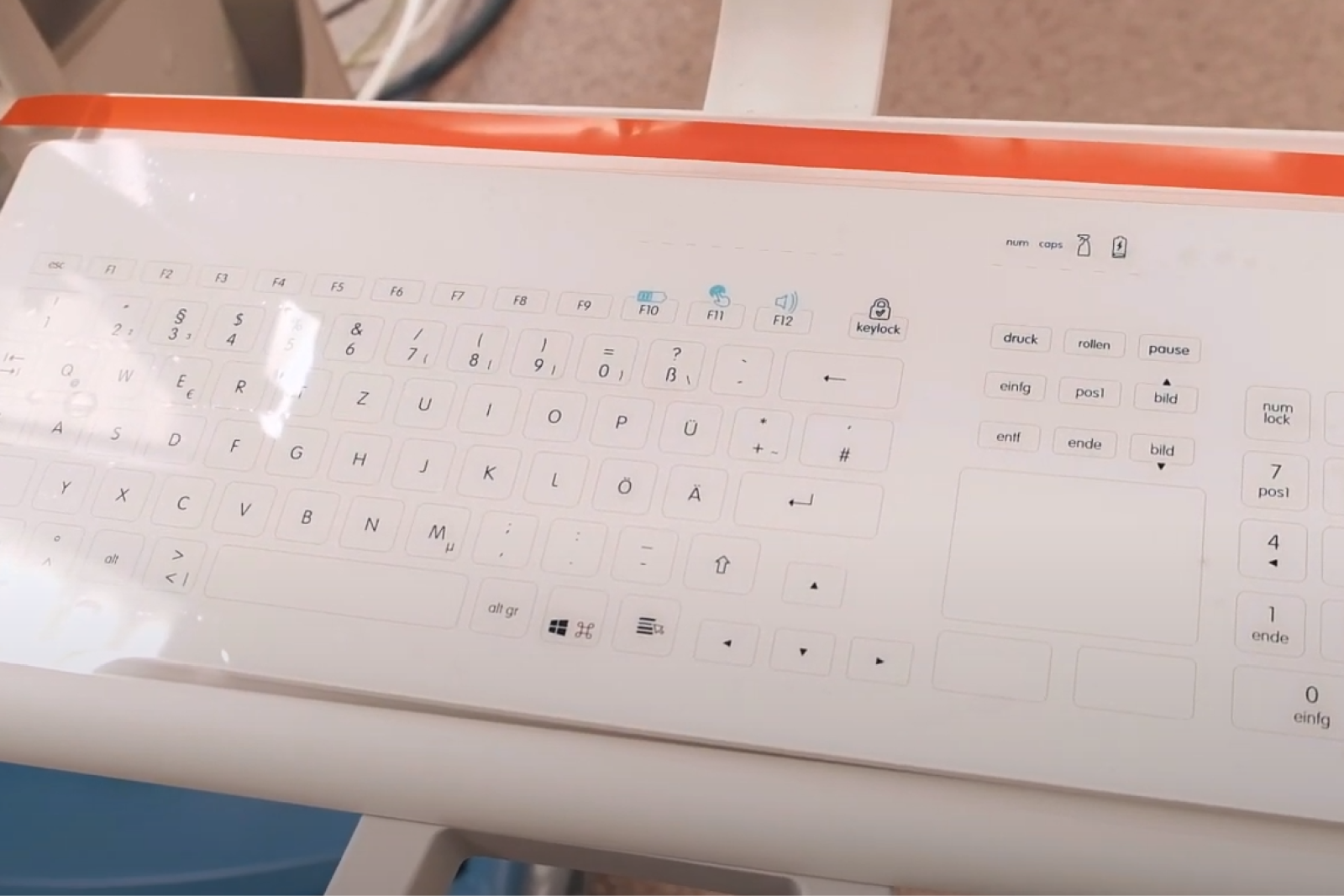 STERTOUCH®PRO can even be affixed by non-sterile personnel before an operation because of the patented layer system!
A brief, final working stage is all that is necessary and a sterile working environment is available in an instant.
After the operation, the film can be removed again very easily, without leaving behind any residue.
>> To the Cleankeys® CK5 you can go this way <<
Do you want to learn more about the topic of sterile handling? Then take a look HERE.
---
Do you want to know how to attach the films?
Follow the 4 simple steps below or watch the product video. Once you have practiced, the process takes no more than 10 seconds!
1. First remove the film's protective bag.
2. Then remove the upper part of the white paper backing and you will see a red strip. Turn the film over and stick it to the surface in such a way that the part with the blue strip overlaps at the top. Using both hands, remove the rest of the white backing film (with the QR sticker) by carefully pulling down the part on the underside and removing it with both hands. A blue film now completely covers the monitor's surface.
3. Using the squeegee that is supplied, you can smooth the blue film on the interface, if necessary. Finally, remove the blue layer by pulling it from the top to the bottom. The transparent film that is now available is 100% sterile. There is a red strip at the top indicating that the product can now be used.
4. After the end of the operation and during the cleaning process, you can very easily remove the film without leaving behind any residue.
*The STERTOUCH®PRO for Cleankeys®CK5 product has been developed in cooperation with our partner, Saxonymed GmbH in Germany!